Waiting
The second coat of paint is drying on the wall in our laundry room. Well, half of our laundry room. The other half was primed and painted in January when, during a habitual walk through Home Depot for things we did and didn't need, we stumbled across a great sale on a bigger washer and dryer. I knew the laundry room had to be painted, as there was still bare drywall from when the electrical panel was moved when we bought the house, and that wall wouldn't be painted if I didn't do it before the new units arrived. But the only time I had to paint was late at night, and I didn't feel up to spending another hour and a half painting around the toilet and on the wall next to the sink, so I did only the necessary and kept postponing the other walls.
Here I am almost six months later, finding flakes of primer on my fingers as I type.
We met with the hardscapes contractor on Friday at lunch, and now we wait for the quote to remove all the concrete from the backyard, fence it in, and widen the remaining driveway for two cars. The earliest we could get started is September and that's if the price is just right. In the meantime, the dog has taken to lying in the driveway or the front yard as if he were solar-powered and in need of recharging. As miserable as it is to bake in the midday Tennessee sun after the dog tricked me into taking him out with getting a frantic "I GOTTA POOP" whine, only to lie down on the grass and not even pee, it's way worse in the dead of winter when said dog is part sled dog and the driveway's icy and he puts his shoulders fully into mush mode.
Tonight, when the paint is dry, we'll hang the first permanent blinds in this house and continue to be patient as things come together.
Goodreads update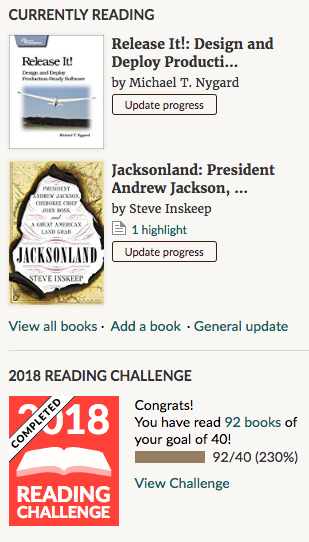 ---
← Back home